Rabah Kherbane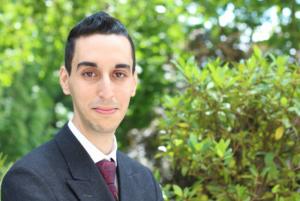 Tell us about your background and why you decided to become a barrister.
My parents arrived in the United Kingdom as refugees, and I grew up in temporary accommodation with my siblings, in disadvantaged areas in London. This is one step below council housing, and a half-step above homelessness. We sometimes found ourselves homeless or uprooted at short notice. When housed, we lived in overcrowded, substandard conditions. My parents coped through harsh budgeting and credit card loans, just to make ends meet.
My family remain in temporary housing, though they have fortunately not been moved from their current accommodation for a number of years now. My parents have always been supportive and kind to our ambitions, despite difficult circumstances, and that is definitely an advantage I had growing up.
I attended my local state school, which has since been closed and made into an academy due to its prior record of poor performance. Classrooms were under-resourced, teachers overworked, and drug searches as well as police vans were a frequent sight at the school gates.
The combined effect of growing up in these circumstances meant I often saw the law in action around me, whether in its application in the asylum context, policing, or housing and social security. The law appeared to me as a way for vulnerable individuals to challenge their circumstances and assert their rights. I decided I wanted to become a lawyer from a young age, due to this capacity for empowerment of others in the law.
Did you face any obstacles along your journey to becoming a barrister, including in the context of your background, and how did you overcome them?
Some of the main obstacles I faced included: (i) a lack of information about the profession, and (ii) access to funding as well as CV-building opportunities.
In relation to (i), I did not know what a 'barrister' was until my first year of university. I also remember being told by teachers that I should manage my career and university expectations, given people from my school 'just did not do X or go to Y'. Fortunately, when I started my undergraduate degree, I was able to proactively access information and advice from mentors, current members of the profession, and others.
In regard to (ii), without scholarships and funding from - for example - various foundations and the Inner Temple, I would not have been able to build my CV, commence the Bar course, or my master's. I proactively researched funding opportunities, checked the profiles of junior barristers for inspiration, and spoke to current members of the profession about their experiences.
The obstacles noted can be exacerbated where there is additional uncertainty and anxiety about personal living circumstances. For example, temporary housing means a family has no shelter security, and can be moved at any time, often to a completely different area, which results in a new school and other disruptive elements to everyday life that can disturb a young person's ambitions and focus.
A lack of funding is amplified by the fact that one's family is unable to financially support their ambitions - indeed, such families are often barely clinging on themselves. It also means any funding received would have to factor in broader living circumstances. For example, it would not have been possible for me to spend three months at an international human rights NGO, without funding from three separate sources: the Human Rights Lawyers' Association, and two grants from the University of Oxford.
By way of contrary example, I recall receiving an offer as a law student to complete an unpaid internship at the European Court of Human Rights, which I was unable to accept as I could not afford to live in Strasbourg for three months. For others, this may have been no problem at all, and such a stint on their CV would (rightly) be a definite 'plus' in a pupillage application. Sensibly, we need to be aware of the fact that sometimes the difference between a CV with numerous placements, and one with less, is quite simply the financial means of the applicant or their family.
What opportunities, support and encouragement did you receive along your journey to becoming a barrister?
In addition to those mentioned above, I received support and encouragement from mentors at the Bar, invaluable advice during undergraduate and graduate level, and from the Inns of Court.
What is the most rewarding thing about being a barrister; has life at the Bar met your expectations?
Our legal system must work, and must be representative of those it serves; being able to play some small role in delivering the excellent and independent representation the Bar is renowned for has without a doubt been incredibly rewarding.
How do you use your experience of coming to the Bar from a non-traditional background to support those seeking to do the same, and/or why is it important for barristers to contribute in this way?
I have assisted the Inner Temple with a number of outreach activities, from school days for younger aspiring barristers, to schemes for undergraduate students and graduates. Within this remit, I deliver talks and sit on panels to advise aspiring barristers, and provide advocacy training.
I have further assisted the Kalisher Trust and other charities with similar workshops. In addition, I have engaged with the Social Mobility Fund; university Widening Participation outreach programmes; and other organisations, in outreach activities.
It is important for barristers to contribute in this way because our output has a significant impact on how accessible the profession is perceived to be, and how accessible it in fact becomes.
What are the challenges facing today's aspiring barristers, and how could they be addressed?
Those from disadvantaged backgrounds will often start from far behind 'the starting line'. Their lack of financial and social capital makes it more difficult for them to (i) realistically envisage a career at the Bar, and (ii) practically become a barrister.
In terms of addressing (i), representation is vital. The increasing levels of diversity seen at the Bar, and initiatives aimed at exposing it, including outreach events by the Inns, are essential to informing applicants from disadvantaged backgrounds that 'there are people like you here, and you can be here, too.'
In relation to (ii), greater access to basic information and networks, as well as funding opportunities is crucial. For example, the Inns' websites provide guidance on the steps and requirements to becoming a barrister. This transparency assists in equalling the playing field. The Inns also provide scholarships, which permit funding for those with ability but without means.
These broadly framed challenges are being addressed, but more has to be done on both accounts, through a greater range of methods, and this Social Mobility Advocate scheme is an essential step towards (i), and raising awareness about (ii).
What advice would you give to someone from a non-traditional background, seeking to succeed at the Bar?
Take initiative, and ask for advice and guidance. Always. And seize every opportunity that comes your way.