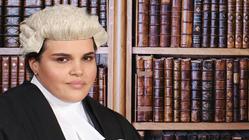 Born to an American father and a British mother, I always knew there was a whole world to explore, but I was always taught that anything you want in this world you must work for. Growing up in New York, my sister and I had the opportunity to be surrounded with people from a range of diverse backgrounds, including the Bronx and London. Through my experiences such as fundraising for victims of 9/11 and attending a National Youth Law Conference in Washington D.C., I knew that I wanted to make a difference.
I attended the University of South Florida where I graduated early with Magna Cum Laude and a BA Honours in Criminology in 2012. At the age of 20, I was hired by the Florida Department of Children and Families as a Child Protection Investigator, conducting investigations for missing, abused and neglected children, presenting information to the Florida Family Courts. In 2014, I received a bursary from The British Association for Sport and Law to undertake an LLM at Nottingham Law School. After doing some mini pupillages, I realized that I wanted to be at the Bar.
However, I knew this journey would not be easy. Many said it was unachievable. So instead of listening, I enrolled on the GDL and got a part time job to pay for it. I decided to make the leap and applied for the Bar Course with Nottingham Law School, where I was offered a place and a further scholarship. I would wake at 4am and catch the train from St Pancras to Nottingham, sometimes for one-hour lectures, but I knew that this was what I wanted, and I had to work for it. Looking back, if remote study had been possible, I would have been able to save on time and sleep!
Towards the end of my Bar course, I faced hardship which ultimately resulted in my mother and I moving to Belfast, where I knew nothing about the place or the people. I knew that I needed work experience and I immediately applied to Victim Support. I was taken on as a Community Support Specialist where I worked with victims who had been severely affected by the troubles, as well as survivors of sexual assault and severe trauma. I would help them work through their issues and provide them various support such as counselling services and shelter. I then was offered a place with a large London corporate firm with a base in Belfast, where I had the opportunity to work in various departments such as Dispute Resolution, Corporate and Personal Negligence. My final role in Belfast was with Witness Support. It was extremely rewarding as I was able to assist witnesses to and from court, helping them to feel confident about giving their evidence.
We managed to relocate back to England and I knew that I had to get a job immediately. I interviewed at a few places but none of them felt right. I felt so upset but I knew I had to keep on pushing. It was then I found an advert for a role at the Supreme Court and applied. A week later I attended an interview, and a week after that I was offered the role. It was by far the best place that I had worked, and my team at the Supreme Court are now like family to me. However, when Covid-19 hit, we had to work to ensure that cases were still able to be processed. This meant that we had to work quickly and together we were able to make the Supreme Court go digital for the first time in 10 years.
Although I enjoyed all these roles, I still wanted to be a Barrister and in July 2020, I became Harrison Clark Rickerbys' first tax pupil, where I feel very supported and I am receiving quality training. I am told the breadth of my work experience shone through at interview and added to my credibility in advocacy exercises as part of the application process. My journey to the Bar has been non-traditional in every sense, but that path helped me to secure pupillage and I have realized that through hard work, determination, the support of those who love you such as my parents, key friends and a never ending resilience, it is possible to achieve what you desire.
My next challenge is to secure my full practising certificate.
Victoria Alicea, both a UK and US national, is currently undertaking a tax pupillage