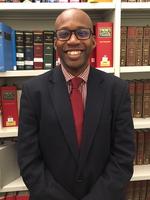 My way through was to immerse myself in learning.
It is both one of the easiest and one of the hardest tasks to describe my journey to the Bar.
It's one of the easiest because in some respects it is achingly conventional. I grew up in Buckinghamshire. I went to a grammar school. Think of the usual things in UCAS applications, I did them. Playing in a local orchestra? Entering every public speaking competition going? That was me.
I was academically strong and did sufficiently well to read Law at first the London School of Economics then Oxford University. Full of skills and confidence, I had applied for the first job in which I was interested, to be a pupil barrister within the Government Legal Service. Successful in that application, I was then called to the Bar, ate my meals and completed my pupillage. I've been in employed practice ever since.
So far, so typical of many of our profession's route to qualification.
But yet it's not the whole story.
I wrote at the start that this is also a hard thing to write. That is because throughout that journey to the Bar, I felt – and frequently was made to feel – an outsider. I felt that that conventional path that I've described was not one for, or available to, me.
Why was this? Because of my social background and my race. More accurately, because of the combination of the two leading to a constant feeling of not belonging.
My father had come to this country in the early 60s, as a teenager from a small island in the West Indies called St. Vincent. He sought opportunity, realising that there was little back home for him. He was a part of what is now termed the Windrush generation.
Coming to this country, he was greeted by intolerance and ignorance. Attitudes towards immigrants from the Commonwealth were outwardly hostile. The law offered little protection. The Race Relations Act 1968 had not yet happened and this was very much the time of "No dogs, no blacks, no Irish" signs in boarding houses.
My father worked to survive, living in rooms, staying on floors, and always working. He worked in a succession of menial jobs. When his father died, he had had so little money that he could not return to bury him. Nor would he have been given the time off even if he had.
As with so many recent immigrant families, ours was no life of privilege. At that grammar school, I was surrounded by talk of foreign holidays, parents' occupations and the universities they had gone to. I stayed silent, or absented myself from those conversations.
I learnt early on that if your parents were doctors and lawyers, then it would follow that you stood a good chance of at least becoming the same. And if they weren't from the professional classes, well, you might want to think about doing something else in life.
But what if – like me – you couldn't call on the social, cultural and financial capital that seemed to be needed to get where you wanted to be? What if you could never look, talk or sound like the typical image of an educated professional? What if you couldn't ask a parent's friend to arrange some shadowing? Or take a year out to produce that hinterland that admissions tutors and employers demanded?
My way through was to immerse myself in learning. It meant – and still occasionally does –that some people might think me more privileged than I am. Confidence – of a sort – also became a way to counter the otherness that I often felt as a Black, working class male trying to make it in the rarefied environments of the Bar and Civil Service. "Fake it till you make it" wasn't just a mantra, it was a key survival mechanism.
I often think in particular of my BVC – now BPTC – year. That year was one which would have been almost impossible to adjust to had I not been to the school or universities that I had attended. Many of my colleagues who completed their BVC ultimately chose not to practise or couldn't secure pupillage. I often think of what they could have contributed to our profession, including by doing what I do, namely advising and working with ministers on governing well, within the rule of law. We have to accept that some of the trappings of our profession can be exclusionary, whether by accident or design.
That's why I believe in the importance of helping students at school or university to consider careers in law. For all my parents' support, own drive, and patina of a decent education, I almost didn't make it to the Bar. I am proud that I did. My father was, too. He died two years ago. It was one of the last things he told me.
Sean Wilson is a senior lawyer at the Government Legal Department and Chair of its Race Network.