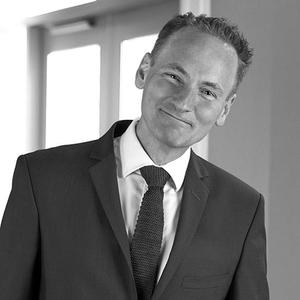 Think not of what Tweeting can do for you, think of what you can do with Twitter
Following David Lammy onto stage as the chair of a session at the Bar Council conference, with an impressive audience of several hundred in the hall and more online, felt daunting. What made it even more so was that I interviewing legal 'Twitterati' Sean Jones (@seanjonesqc) and, via the voice of the Bar Council's Young Barristers' Committee Chair Joanne Kane (@JoanneKane_ ), the Secret Barrister (@BarristerSecret), who between them have over half a million followers.
I need not have worried – Sean, Joanne and the Secret Barrister were very kind, sharing their thoughts in an amusing and lively session that highlighted the good social media can do and provided both encouragement and advice for barristers aspiring to build a following on Twitter.
The good
The panel shared three inspiring stories of success to encourage those who have not taken the plunge into social media to do so.
Sean is, of course, famous for having launched the Billable Hour Campaign. It began as a response to the refugee crisis in 2015 with the idea that, if those who worked in the legal sector donated the amount they could earn in a single hour, they could potentially make a huge difference. The simple concept went viral and has now raised hundreds of thousands of pounds for Save the Children and other good causes. It has also inspired similar initiatives in Australia, Germany and Canada, amongst other places. In the wake of the tragedy of seeing the crisis manifest itself in the English Channel with 27 deaths, including children, the campaign remains as relevant as ever. Indeed, just days after the conference, Sean tweeted: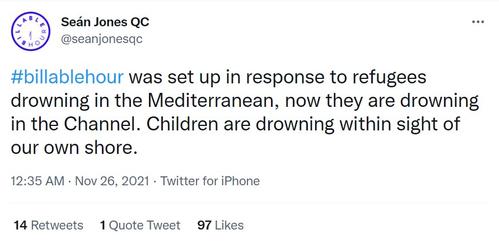 Another remarkable story that the panellists all praised involves another well-known tweeting barrister, @CrimeGirl. Her campaign to highlight the plight of Afghan refugees and find assistance for them has undoubtedly saved many, many lives. She is a director of an Afghan crisis response charity that helped bring out over 500 individuals at risk of being targeted by the Taliban and used her social media platform to champion their cause. One of those she helped save was a pregnant Afghan judge, who named her daughter after @CrimeGirl to thank her for her efforts.
And, of course, the Secret Barrister's own story is also a great example of the power of social media. Using the anonymous Twitter account, the Secret Barrister has been able to highlight the state of the justice system in England and Wales, revealing the ways in which it is failing in its purpose as a result of chronic underfunding and neglect. By shining a light on the issues faced by junior barristers, there is no doubt that the Secret Barrister has helped to focus attention on an issue that is often hidden from public view. At the same time, the social media reach has helped publicise the blog, which resulted in it being named Independent Blogger of the Year at the Editorial Intelligence Comment Awards, and the two associated books that have sold hundreds of thousands of copies.
The bad
The issue of anonymity on social media is something that is a topic of political debate currently. Some argue that, in order to protect the victims of online abuse, individuals should not be able to remain anonymous on social media. Perhaps unsurprisingly, the Secret Barrister, speaking through the voice of Joanne, strongly defended the value of anonymity, saying what they have done would not have been possible with out it. Sean agreed, and also highlighted that those within oppressive regimes and other vulnerable circumstances would potentially not have a voice or might face significant danger if anonymity was removed.
However, the panel were clear about the dangers of social media. Sean had not "taken part in a fox hunt and shared it on social media!" or attacked K-Pop, which Sean helpfully explained for those that weren't aware is a very popular Korean pop music. He recognised that 'pile-ins' (where an individual becomes the focus of an attack online by hundreds or thousands of people) are a risk for those on Twitter and other platforms. He agreed that social media can be brutal and that those engaging in the mediums had to accept that risk.
Sean also told the story of revealing details of his personal life, thinking few would be interested, and finding that two million people had viewed it. Unfortunately this was only after his wife took umbrage at the content of the post and he had told her that it wouldn't have received much attention! Often tweeting can feel like you are involved quite an intimate, one-to-one conversation, so remembering that is not the case is key.
On that theme, continuing with the family theme, Joanne revealed that she asked herself before posting what her grandmother might think if she were to read it, and Sean had similar advice about considering how your clients might react. Sean also cautioned people to remember that "you don't owe anyone an argument"; in other words, most of the time, holding back from disagreeing too strongly is the wisest cause of action.
The issue of the Bar's Code of Conduct was also something that was raised as a concern by the audience. Sean's view was that, while the wording was potentially quite restrictive, the important issue was how the Code was interpreted. As with many regulations, the Bar's goal is to address unacceptable behaviour, and in practice this meant that sensible, constructive use of social media that respected client confidentiality was not going to be sanctioned.
For those starting out, the panel agreed that understanding the different platforms and the social norms involved was also key. Without suggesting that people should hold back indefinitely from sharing their thoughts, spending time 'listening' and observing before sharing thoughts was often a wise approach. As Sean pointed out, there is often a lot of valuable and interesting content, so this is usually not wasted time and should help anyone who feels nervous about the risks.
And the diversity
However, Sean stressed that we are, like it or not, living in an age of social media and needed to engage with it. Joanne, speaking as the Chair of the Young Barristers' Committee, stressed that active engagement in social media helped position the Bar with younger audiences, encouraging them to join the profession. The link to the previous conversation on diversity that David Lammy had chaired seemed clear; failing to engage with social media was something that the profession, and therefore those within the profession, could not afford to do.
The law remains an exciting and rewarding career but many would argue that barristers have for too long appeared aloof and disconnected from the society they serve. Despite the risks, social media is a way to reach those who might otherwise not feel the Bar is somewhere that would welcome them. Opening up, sharing experiences and demonstrating the fact that barristers are approachable has to be a good thing and the panel's message was that there is a pressing need for this connection. As Sean said: "Just get involved!"
Keith Hardie is a senior business development, marketing communications, and change management specialist at MD Communications with experience of heading central functions in leading global law firms, key roles in half a dozen start-ups and new business ventures, and a background in large corporates.
As a Partner in MD Communications, Keith advises clients on strategic challenges such as those associated with mergers, driving innovation and culture change, digitisation, and introducing new approaches to marketing and business development that deliver results. He also supports legal start-ups and those businesses targeting the legal market.