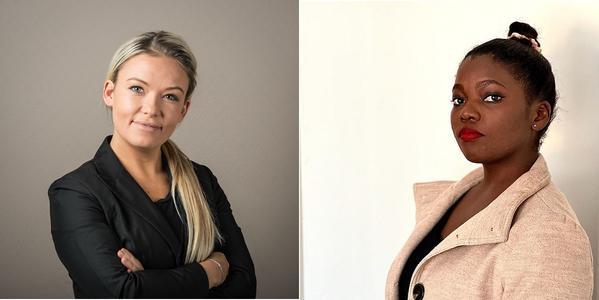 For International Women's Day 2022, Emma Hughes and Leah Nandugga argue that inequality is directly linked to stereotypes, family life and the division of labour at home.
The inequality that exists between men and women in the workplace, and their different salaries have always been connected to the family. That argument is made on the grounds that women spend more time on family duties, and less time on their financial growth in the workplace compared to men. The rationale for this is that women are considered to be more nurturing and caring than men, and are expected to spend more time on their family's wellbeing, and less time on their own growth.
A less commonly asked question is whether women are inherently more nurturing than men, or whether this behaviour is a result of inequality in the distribution of family duties. This stems from a period where men were considered to be the only valuable gender to society's development, and women were 'forced' to stay at home caring for the family.
When it comes to equality between men and women, society appears to overlook the family as a contributor to inequality, and that the division of labour in the traditional family setting hinders women's opportunities and liberties in wider society.
This is reflected in the gender pay gap which still remains 'alive and well' at the Bar, as the Chair of the Bar Council confirmed following the release of figures on this issue in 2020. In almost all of the 30 practice areas which were considered, the percentage of earnings attributed to women was below that expected when compared to the percentage of women within each practice area. For example, 23% of those who practice in the field of licensing are female, but they only account for 10% of the earnings in that area. This trend is reflected in each and every practice area save for two. One of these areas of practice is Family Law, which interestingly is one of the only practice areas that has a greater number of female practitioners compared to their male counterparts.
In contemporary society women still compete the majority of domestic tasks, and also raise and care for the children. Childcare is time consuming and those who carry it out unaided are unlikely to be able to pursue other gains such as education, demanding professions or societal positions.
The family is referred to as the linchpin of gender injustice and is continually recurring from one generation to another. Women who manage to combine work and family are often faced with detrimental obstacles including: the lack of funded childcare; occupations without flexibility for those who need to look after an unwell child; school timetables that seem to be initiated on having a parent at home; and an expectation that women will continue to work a 'second shift'. This is reflected in the difficulties that women at the Bar still face today.
Women who choose to have a family and pursue employment find themselves under pressure to work at a competitive standard, while also taking adequate care of their children. It is often the case that women deny the impact of motherhood to their lives, in fear it would hinder their career progression to do otherwise. In private, they struggle to achieve the work/life balance but in public, they feel compelled to express that the role of superwoman suits them.
Some women even conform to the child-free image that is required for career success. It is a fact that when women have children, their unpaid workload increases. This in turn, activates the motherhood penalty which leads to several mothers exiting the profession.
The motherhood penalty can be considered to be more disadvantageous to highly skilled women when they exit the labour market to care for their children. This is because the time spent away from employment can stagnate their skills, which is particularly relevant for those who previously appeared regularly as advocates.
Stagnated skills can hinder and delay a woman's progression to more senior positions in the workplace, while their male colleagues continue to climb the career ladder. This is one of the reasons why there are equal numbers of men and women joining the profession now, but more men are in senior positions.
The reason for the motherhood penalty can be linked to the 'ideal mother' stereotype. According to traditional expectations, the ideal mother spends most of her time and emotional energy caring for children, even if she has a professional career. Since it is women who biologically bear children, primary responsibility for childcare is culturally assigned to mothers instead of fathers. Several disadvantageous effects of motherhood on women in the workplace are derived from the social status attached to the task of being a mother. It is also likely that these social stereotypes of motherhood may be linked to a woman's expected competence in the workplace.
The Bar has come a long way from the days of Helena Normanton in 1922. Despite this, more must be done to assist those who choose to have a family, alongside a thriving career at the Bar. Women at the Bar continue to prove that an 'either-or' approach is not necessary. This sentiment is magnified by the record number of female QCs currently within the profession. With further support from those around them in the profession, including the ongoing support from the Bar Council in the push for equality, even more women can prove the motherhood penalty cannot prevent them from a successful career.
Emma Hughes specialises in criminal, family and civil law matters and Leah Nandugga is a PHD candidate.
Access more information and blogs about Women in Law.