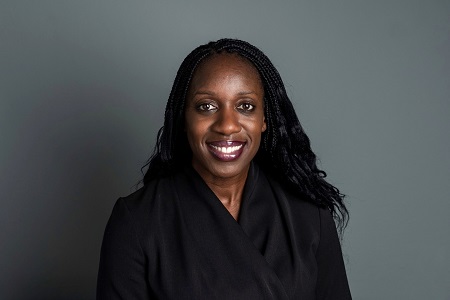 For International Women's Day 2022, Nneka Akudolu shows a determination to push upwards and forward.
I had it all planned out with military precision: I would fly to Dhigurah, one of the many beautiful atolls in the Maldives on the 16 December, to make sure that when I received that email, whether good or bad, it would find me in paradise.
Covid, however decided my proverbial 'best laid plans' were not best laid at all, and I tested positive a few days prior to my scheduled departure.
So, 20 December 2021 at 11:31am. London, not the Maldives; the email finally arrived. I read only the first three words: "I am pleased..." I screamed. Loud. My thoughts immediately went to the person who was the most influential woman in my life; my mum.
My mum was the most industrious person I knew – a midwife for 30 years, intelligent, fearless, and I thought immortal. She died suddenly and unexpectedly in November 2020, and just over a year later, her daughter had been appointed Queen's Counsel. What would she have thought? How proud would she have been? I was desperate to tell her my news.
Instead of my mum, I contacted the other most influential woman in my life; my daughter Bayleigh, a truly brilliant human being who is galloping towards a first at university and speaks 3 languages. 'I got it' I told her.
Over the proceeding days and the rollercoaster of excitement and emotions, I was to learn that I am amongst a record number of women this year who will proudly walk into the Palace of Westminster on the 21 March and take Silk.
Women are still very much in a minority at the Bar in general, and the percentage depletes even further when looking at the number of women in Silk. In terms of the latter, personally I suspect there is a general lack of confidence of what is considered to be a daunting process, and a fear of being unable to garner sufficient support from a large number of referees. Then of course, there is the cost: £1900 (plus vat) to have the privilege of filling out a 90-page application form that may come to nothing. There is a reduced fee of £900 (plus vat) for low earners but it's easy to see why many would be driven to the conclusion that it is not for them. It is however certainly more attainable than one may think.
In 2019, I was being led by a formidable female QC who casually dropped into a conversation 'when you take silk...' as though it was a foregone conclusion. I didn't share her optimism at the time. I sometimes doubted myself and frequently allowed the insidious psychological pattern of imposter syndrome to consume my thoughts. I know of so many successful women (and men) who still think they'll be getting a 'tap on the shoulder' at some point to tell them that their success has all been some hideous mistake. That conversation however stayed with me, it made me pause. And as we progressed through what was a gruesome murder trial (in every sense of the word), I grew in confidence, ultimately telling myself 'Yes, I could do this'. Later that year I consulted two senior members of Chambers about my intentions to apply. Their support and assurance gave me the boost I needed to walk a career path that I had previously not allowed myself to imagine.
Of the 101 applicants to be appointed this year, 45 are women. In total 72 women applied. This is the first year on record that there has been anything near gender parity. Comparatively in 1996, 40 women applied and only 4 appointments were made. These are therefore, exciting times; but the reality is that for more women to be appointed, more women need to apply.
Those of us who are in this privileged position should be encouraging and mentoring others to do the same. Those who are not here yet, look at the names of the incredible women who have attained the benchmark of excellence this year and know that this is eminently achievable. It is my firm belief that, through seeing more women succeed, more women will follow.
The Bar Council has shown considerable commitment to achieving gender equality. In 2019, along with the Law Society, they signed a pledge to (amongst other things) 'support the progression of women into senior roles in the profession by focusing on retention and promotion opportunities'. Progress in that regard is already visible in high definition considering that the Law Society now has its first black female President, there are an equal number of male and female Senior Judges at the Central Criminal Court, and 4 of our Circuit Leaders are outstanding Women. This can only serve to give women the confidence to not only achieve their goals, but excel in them.
I have had many exceptional women encourage me throughout my career and I am grateful to them all, but it was my mum who installed a need to push myself. My mum always told us that we had to work harder than everyone else to succeed. She was right.
In many ways, my determination to push myself and other women upwards and forward sits as a testament to the courage and strength I found in her. So on this International Women's Day, I honour the warrior spirit that is my mum. Thank you, Maria Adesegha. We did it.
Nneka Akudolu is a barrister at 2 Hare Court.
Access more information and blogs about Women in Law.