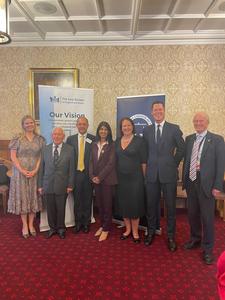 As part of #JusticeWeek2023, the Bar Council and the Law Society co-hosted an event in the House of Lords to brief MPs and Peers on current justice issues. Here are the highlights of the speech by Nick Vineall KC, Chair of the Bar Council.
It is great to welcome so many friends to celebrate Justice Week.
The Bar Council represents 17,000 barristers who are often the lawyers at the very sharp end of disputes, acting for clients without fear or favour, and helping judges and juries to ensure that justice is done and also seen to be done.
In the justice system, all of us here have a role, a distinctive role. Parliamentarians – you make, and can unmake, our laws. And as barristers – we advise and represent our clients, holding ourselves to the high ethical standards of behaviour and rightly being punished by the Approved Regulators, acting independently, if we fall short. All of that subject to oversight by the Legal Services Board.
And then the ultimate product – justice – comes from cases being decided – almost always in public – by judges or juries.
Now, understanding those distinct roles explains why we were so pleased to see the government come forward last week with proposals to deal with SLAPPs (strategic lawsuits against public participation). The Legal Services Board has been threatening to wade in here – wondering whether to make lawyers responsible for deciding whether a claim is an objectionable SLAPP or not, and declining to act if they think it is lawful but somehow objectionable.
The danger with forcing value judgments – rather than legal judgments – onto lawyers is that not everyone agrees what the result of those value judgments should be, or even what the right yardstick is. Trying to make lawyers decide who is in the right and who is in the wrong risks usurping the role of parliament in making laws, and also risks usurping the role of judges or juries in deciding whether the law has been broken.
As to the quality of legislation – at the Bar Council we don't take party political positions. But we will comment if we think legislation either:
Won't work,
Or does not properly respect the place of lawyers in the justice system,
Or does not respect the rule of law
(And that is why we are so concerned by the provisions in the Illegal Migration Bill which seem designed to oust the court's supervisory jurisdiction over the executive.)
But in a sense what I have described so far is the theory. Having good laws, and good lawyers, and good judges is great. But none of this works in practice unless there is effective access to justice.
And there is only so much that Advocate, the Bar's pro bono charity, the Free Representation Unit, and the many other charities that try to plug the gaps in legal aid, can do.
That is why our new and excellent Lord Chancellor took an oath – not just a promise – but took an oath to discharge his duty to ensure "the provision of resources for the efficient and effective support of the courts for which I am responsible."
And I'm afraid the Lord Chancellor has a lot to do… with long backlogs across the court system and most acutely in the Crown Courts.
It is good that civil legal aid is being looked at but the timetable for the review is too leisurely. It is right that it will explore the role of advice agencies as first port of call; and right that it will look at the so-called diversion agenda – to keep people out of court. But remember that if people are not advised and represented (because they don't have legal aid) they are more – not less – likely to take their grievance all the way to court.
Perhaps a little more spent on legal aid in the short term would mean in the long term less spent on courts, and judges, and less spent meeting the economic and human costs of justice delayed.
Similar messages come from the huge backlog of cases in the Crown Courts and the unconscionable delays that have resulted. It is good that there is a criminal legal aid advisory board (or CLAAB) but profoundly unsatisfactory that, NINE months after the government accepted Lord Bellamy's recommendation to create a CLAAB, it is still without a permanent chair (though that is rumoured to be imminent).
Once the chair is announced CLAAB must urgently address the two central challenges:
First: Ensuring that overall levels of remuneration for publicly funded criminal work – for solicitors and barristers – is set at a sustainable level, but also
Second: Ensuring that the pattern of remuneration in the Crown Court is aligned with the aims of Better Case Management.
Let me unpack that second point because it so important. We all want to encourage early guilty pleas, so that instead of pleading guilty just before – or even just after – a trial has started, defendants have early informed advice on plea and can take advantage of it. But that won't happen if we persist with a model where paying criminal lawyers is held off until the very last moment.
So, there is much to do. And we look forward to working with all our friends in parliament – whether in government, on the back benches, or in opposition – and in the Ministry of Justice, and all those who share our belief that although we have a great justice system, we desperately need to address the court backlogs and desperately need to need to improve access to justice.
Let's hope that by focussing attention on justice, Justice Week can do its bit to help.
Nick Vineall KC is Chair of the Bar Council for 2023
Pictured above: Laura Farris MP, Sir Bob Neill MP, Nick Vineall KC, Lubna Shuja, Victoria Prentis KC MP (Attorney General), Alex Chalk KC MP (Lord Chancellor), and Lord Hunt at the Justice Week reception