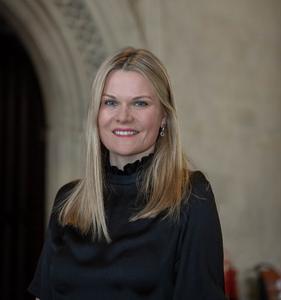 In our fourth #JusticeWeek2023 guest blog, Laura Farris MP explores the barriers to accessing justice and outlines recent measures to remedy the problems, in the week that the new All Party Parliamentary Group on Access to Justice was launched.
Access to justice underpins the rule of law. If people cannot access legal assistance to enforce their rights or secure remedies then there is little point to the laws that we make in Parliament, the individual's participation in society is diminished, and the rule of law itself is undermined.
Impediments
Access to justice may be impeded in different ways. The availability (or lack of) of legal aid is perhaps the most obvious example: where an individual is dependent on legal representation to vindicate their rights but can neither afford to pay for a lawyer nor access legal aid to do so. Even when an individual can afford a lawyer, sometimes the disparity in resources between the parties is so significant that they are effectively outgunned from the start.
Sometimes, it is the complexity of the system itself that impedes access. Speaking on a panel last week, the former Lord Chief Justice, Lord Thomas lamented the complexity that had crept into the tribunal system. Although conceived as an informal forum where a litigant could comfortably represent themselves in matters like employment and immigration, increasingly tribunal litigation has developed in a way that is barely distinguishable from the courts. The delays precipitated by Covid can also have a chilling effect, leading to claims being withdrawn because the wait is too long.
Progress
However, I note that in the relatively short time I have been an MP (since 2019) there has been significant progress in some of these areas for which credit must be given. Despite the significant legal aid cuts that resulting from LASPO 2012, the Ministry of Justice has recently made substantial funding increases, including implementing every single one of Christopher Bellamy's recommendations in his excellent Independent Review of Criminal Legal Aid.
Second, those who qualify for legal aid support has been expanded to include domestic abuse victims (where a shared house with their abuser is no longer included in the eligibility test), and children, as well as types of preparation work that were previously out of scope. The Ministry of Justice announced last month that its most recent package of measures will enable over six million more vulnerable people to access funded legal support.
Third, the Government has substantially increased the funding to law centres in each of the last three years. Most recently, in November 2022, £12 million of new grant funding was extended to legal advice charities in recognition of the vital importance of early legal advice. A measure of their success is that of the 33,000 who have accessed free legal advice under one of these schemes since October 2020, two-thirds were able to resolve their disputes without recourse to a court.
Fourth, effective work is taking place to reduce backlogs (which have more or less gone from the Magistrates' Court and are falling in the Crown Courts) and provide witnesses with special measures that help to circumvent the delays. An example of this is the rollout of s.28 evidence procedures for vulnerable witnesses, including rape victims, which enables them to give pre-recorded evidence well ahead of trial so that their own involvement concludes sooner.
None of the measures I have set out are a complete answer to the barriers to justice that exist and improving access is something that all policymakers must maintain as an urgent focus over the years ahead. That is why I am proud to be co-chairing the new All Party Parliamentary Group on Access to Justice to ensure that this fundamental issue receives the attention it deserves.
Laura Farris is the MP for Newbury and the co-chair of the All Party Parliamentary Group on Access to Justice, alongside Karen Buck MP. Laura was Called to the Bar in 2007.