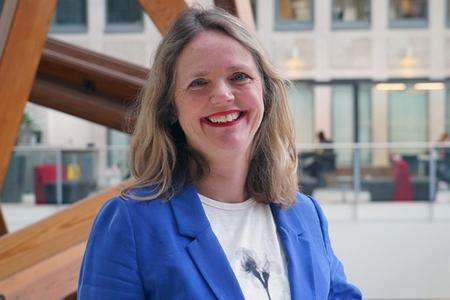 In our first #JusticeWeek2023 guest blog, Caroline Croft, Director General at the Government Legal Department, explains how the work of government lawyers affects citizens every day.
When I moved, long ago, from the Criminal Bar to work as a government lawyer, I noticed many advantages, but one big disadvantage. As a criminal barrister, I could easily explain my role at a party when I was asked what my job was. Yes, I worked in a court; yes, I knew more than I'd ever planned to about importing illegal drugs; yes, I met people at their most vulnerable and gave them some help. I did what it said on the tin, and I could easily describe the direct impact of my work on the everyday citizen and importance of the criminal justice system.
As a government lawyer, explaining my role was somewhat more complicated. Conversations at parties petered out more quickly. How could I explain what it is that the almost 3,000 lawyers in the Government Legal Department do? Let alone what our work does for those at the party, and every other citizen up and down the country.
The department's purpose – to help the government to govern well, within the rule of law – makes things a little less abstract, but even so, only the most serious-minded party-goer would then go on to ask, "so what does it mean to govern well, and what is the rule of law?" Still less, "and why does any of that make a difference to me?" But in fact, one of the joys of my career has been that what I do at work makes a real difference to people, virtually every day.
The varied work of a government lawyer
Government lawyers help turn the promises on which governments are elected, into real, practical differences in people's lives, making sure the governments' myriad everyday activities operate within the law. The Government Legal Department has lawyers based across the majority of government departments, advising on issues ranging from transport to education to the arts. We also do really fascinating litigation, employment and commercial work.
Recently, government lawyers advised on the Marriage and Civil Partnership (Minimum Age) Act 2022 that raised the minimum age to marry from 16 and 17 with parental consent to 18. Their work is helping to protect children from coercion and abuse, and helping to reduce the number of forced marriages that can have a negative lasting impact, particularly on women and girls.
Other government lawyers are working on the Online Safety Bill that is currently going through the legislative process; a new set of laws seeking to protect children and adults online.
Similarly, our lawyers advised on the introduction of life-saving defibrillators that are currently being rolled-out to schools across England.
And last year, the Social Security (Additional Payments) Act 2022 enabled payments worth £15bn to be made to millions of low-income families and disabled people. This required government lawyers to work together as part of a cross-government team, comprising devolved administrations, five government departments and policy colleagues.
Creating a legal framework
It's not just the content of individual projects that affects individuals; as government lawyers, we also help to create an overall legal framework that is clear and consistent – from the simplest statutory instrument to complex multi-lateral international treaties. It is important to everyone that we have unambiguous laws, that the people affected by them can understand and trust.
Being able to work on legislation and projects designed to help society is one of my favourite parts of being a government lawyer.
It's only part of the picture of course. To have access to justice, citizens need access to trusted legal advice and representation, and accessible and affordable judicial institutions.
The work of lawyers in government, in providing a clear, fair, enforceable legal framework, continues to be a crucial tool in enabling all citizens to benefit from the policies of the government they elect, and to build their trust in democracy itself.
Caroline Croft is Director General for the Employment with Economic Recovery and UK Governance directorate. Caroline started her legal career as a barrister at the criminal Bar and in 1992 joined the Civil Service where she has held senior posts advising a variety of government departments.