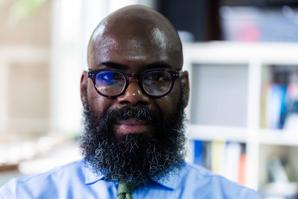 Employed Bar Awards judge Simon Regis, Deputy Director of the Department for Digital, Culture, Media and Sport Legal Advisers, believes his previous success in the competition helped to open up a number of valuable opportunities.
So, the Employed Bar Awards (EBAs)... what are they all about? At their core is a recognition of the incredible work that employed barristers undertake across the legal spectrum in both the public and private sectors. And you may well ask: why do employed barristers need their own awards? And my answer would be: why not? We otherwise recognise legal excellence within our profession, so I am going to wave my flag for employed barristers.
Before I get into what it has meant to me to have been a former winner, I would encourage you to nominate individuals and teams. The Government Legal Department (GLD) is sponsoring the Employed Legal Team of the Year (which requires a minimum of one person from that team to be an employed barrister). Nominations for all categories close on Wednesday 15 June, the shortlist is announced on Thursday 14 July and the winners will be announced on Thursday 20 October at the ceremony hosted by the Honourable Society of Gray's Inn.
I have been fortunate to have had an incredibly wide-ranging and rewarding career at the employed Bar, from my first temporary post at the Crown Prosecution Service (Central Confiscation Branch) to my current role at the Department for Culture, Media and Sports (DCMS). I have taken full advantage of the opportunities to move around within the public sector (including two non-legal stints) and I would always recommend it alongside and equal to a life at the self-employed Bar. There are clearly some experiences and opportunities I have been exposed to that I believe may not have been open to me if I were practising at the self-employed Bar. Very much like 'One GLD', the Bar Council is championing the concept of 'One Bar', seeking to break down perceptions about employed barristers and raise awareness of the benefits of life at the employed Bar.
As an EBA winner during the pandemic, I did miss out on the ceremony, but the awards opened up a number of other opportunities. Most notable was being asked to co-Chair the Bar Council's Race Working Group, which is an immense privilege, working alongside Barbara Mills QC. Through this project I get to work with dedicated individuals across the Bar of England and Wales on the central theme of improving race equality at the Bar through the lenses of access, retention, progression and culture. I, with others, bring an employed Bar perspective to our work alongside the experiences of those from the self-employed Bar. In November 2021, we launched Race at the Bar: A Snapshot Report. It sets out clear recommendations for action, and all of them can easily be adopted for an employed Bar setting. We will be following up with a progress report later this year.
I also consider myself quite lucky to have won not one but two awards in the same year ('Employed Barrister of the Year' and 'Outstanding Employed Barrister in the Public Sector'). Some would call that greedy, but for both awards I was honoured and humbled to have won. As a GLD employee, those awards were not just a recognition of my work, but also of the contributions of colleagues who worked with me. I did not do it alone – it was and remains important to recognise the team effort for many of us who work at the employed Bar. And of course, for my family – especially my mother – the awards are displayed front and centre on the mantelpiece!
Winning these awards has also given me the opportunity to reconnect with the Bar Council and my Inn (Inner Temple). Coming back to the theme of One Bar, it is all very easy to lose touch with your professional support network, especially if you work within a large organisation. These awards made me appreciate and re-evaluate my connections. They also shifted my mindset in terms of wanting to actively contribute to those organisations – I am a member of both the Bar Council and the Inner Temple Bar Liaison Committee. These positions provide opportunities to raise the profile of the GLD and the employed Bar, strengthening our networks and, as a result, ensuring continued engagement from an employed Bar perspective.
Finally, I have the privilege this year of being a judge for the EBAs, so I will get to read first-hand about the amazing and inspiring work not just of GLD colleagues but also those in the wider public sector and the private sector.
So, a reminder: nominate your colleagues, nominate teams and let's once again demonstrate the breadth, depth, complexity and, in many cases, uniqueness of the work that we all do here at the employed Bar.