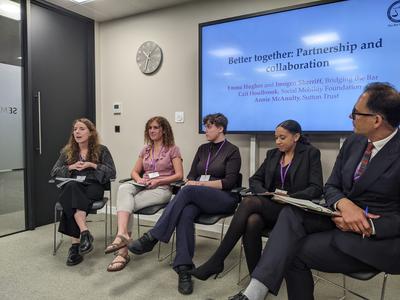 In July, the Bar Council held the first Bar Social Mobility Summit to bring barristers, chambers, Inns, and expert organisations together to discuss taking effective action to support social mobility at the Bar. Sa'ad Hossain KC, Co-Chair of the Bar Council's Equality, Diversity and Social Mobility Committee chaired the Summit. At the close of the Summit, Sa'ad summarised his six key takeaways from the day:
Have clear objectives and more data. Whatever you do, you have to do it by knowing what your objectives are at the outset. You've got to have a good idea of what success means after two, three, four years. You also need data: who you are attracting and what happens to those people? How do they do? Our data at the Bar is not currently very good and it needs to be improved through better data collection.
Focus on what we do best. There is much more than any one person, chambers or Inn can do so we have to focus on what we do best. From a chambers point of view, we should be relying on all those excellent organisations who identify under-represented candidates with potential who could be introduced to the possibility of a career at the Bar. Those organisations can do it better than an individual chambers ever could. Similarly, chambers should make use of the Inns who have facilities to go through detailed forms that would overwhelm an individual chambers.
Be happy in the greater achievement. Many of us at the Bar are individualistic; we don't like being told what to do and we live a life of competition. But we need to put that to one side. On social mobility we need to recognise that in any given year, the benefit may not be seen within our own chambers, but it will be seen when one looks at the Bar as a whole, or within a circuit or specialism. We should be happy when we see from the overall statistics that more under-represented barristers are flourishing at the Bar – that collective kudos will be our reward.
Share learning. We are at the early stages of finding out what is going to work, so we need to be sharing learning from what different chambers are doing (for example, the Garden Court Chambers mentoring scheme we heard about at the Social Mobility Summit). This sharing of learning is a role that the Bar Council may be able to fulfil, as the most generalist umbrella organisation within the eco system of the Bar. The Bar Council's race report and follow up provides a model for how good practice can be shared.
Provide information. It's really important for applicants to know what is available to them in terms of access and mentoring schemes. Some schools are well informed, but we also need to reach young people in schools that aren't. If someone is thinking about the Bar and searches "how do I become a barrister?" the Bar Council comes up high in the results, so the Bar Council needs to make sure it has all of the information to point people in the right direction.
Create the culture to thrive. As well as entry to the Bar, we also need to look at progression. We need people to thrive in our profession; we don't want to do a lot of work to encourage people in and be exposed to a glimpse of life at the Bar unless we're confident that they will like what they see. We need to make sure we're all on board and supportive of the aims of social mobility. All those who attended the Social Mobility Summit are amongst the greatest champions but we need to bring the whole Bar along with us.
Find out more about social mobility at the Bar