Andrew Dakoutros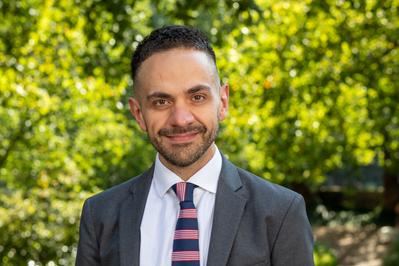 Tell us about your background and why you decided to become a barrister.
I was brought up by a single, non-English speaking minority ethnic mother from Cyprus, on benefits, living on a council estate in North London. I am openly gay; have dyslexia, ADHD and anxiety; and come from a socially disadvantaged community. I studied at an inner London comprehensive school that continuously failed OFSTED inspections.
I became interested in being a barrister as a result of growing up in a large Cypriot community in London. A large number of my community were refugees and economic migrants. They often had very little English and were engaged in unskilled labour. My mother worked as a seamstress. Her work involved stitching together pre-cut pieces of material, for which she was paid by the piece (often around 20p) for dresses that would sell for over £30. Other people in my community worked as labourers, drivers or chefs. I saw how people who couldn't stand up for themselves were constantly exploited. The law for me was an answer – a way to protect vulnerable and disadvantaged people.
Did you face any obstacles along your journey to becoming a barrister and how did you overcome them? Have any of them persisted since becoming a barrister?
When I started my first degree at Queen Mary, University of London I had undiagnosed dyslexia, anxiety and ADD. I was diagnosed with anxiety my first year of practice, and ADD in my fifth year of practice.
I had two main cultural barriers during my journey: firstly, the lack of money, connections and experience. I had to work full time throughout my undergraduate degree, postgraduate degree and Bar course.
Secondly, not feeling as though I belonged at the Bar. This barrier was the hardest to deal with. It felt like a constant battle with myself to reassure myself that I belonged at the Bar. Some of that feeling still persists to this day.
What opportunities, support and encouragement did you receive along your journey to becoming a barrister?
I was lucky to have two wonderful pupil supervisors at 39 Essex who persisted in telling me that I was good enough and that I belonged at the Bar. As I gained my confidence and started mixing with other members of the Bar, I quickly realised what a friendly and welcoming place it can be. I have never felt like I did not belong around other barristers or members of the judiciary.
What is the most rewarding thing about being a barrister; has life at the Bar met your expectations?
I like being able to work through a legal problem and finding a solution. I like being able to use my knowledge of the law along with advocacy skills to make change happen. Life at the Bar has certainly exceeded my expectations – I have had the opportunity to argue really good points of law, I have seen the application of law in action, worked with exceptional government lawyers, and I have worked for, and opposite, some truly amazing legal minds.
How do you use your experience of coming to the Bar from an under-represented background to support those seeking to do the same, and/or why is it important for barristers to contribute in this way?
I think visible role models are vitally important. I had some very encouraging people around me who would not take let me give up (especially my two pupil supervisors), but I did not have any visible role models that I could look up to. I think role modelling is so important, and I wish there was more visibility at the Bar.
How do you think the challenges around social mobility at the Bar which face aspiring barristers today could be addressed?
I think more work needs to be done to have positive role models from different backgrounds. Being at the Bar should not be about where you have come from in life, rather it should be how you can help people be at the place they need to be at. There are many practical changes that could be made (means-tested scholarships, outreach campaigns, less emphasis on Russell group universities) – but we also need to have role models. There should also be more recognition that not everyone is able to do mini pupillages, moots and law societies. Experience gained from dealing with people at all jobs is useful at the bar.
What advice would you give to someone from an under-represented background, seeking to succeed at the Bar?
Do not ever take no for an answer. Do not think you don't belong – you do. The Bar is a welcoming and diverse place; do not be shy to reach out for help. Ditch the imposter syndrome and focus on getting to where you want to be – there will always be people to help you, but ultimately, the power is in your hands!
Andrew Dakoutros is a barrister in the Government Legal Department