Emma Cross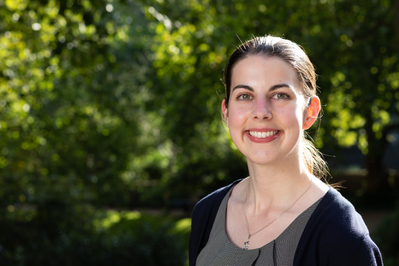 Tell us about your background and why you decided to become a barrister.
I was born in Canada and moved to Cornwall when I was six. My mother was a single parent who had not gone to university and does not have a legal background. None of the adults in my immediate or wider family had been to university.
I attended a state secondary school and college. I went on a college trip to Truro Crown Court, which was when I first saw barristers in court, and I decided to study law at university.
I had a fantastic time at university and took part in lots of mooting, pro bono projects and undertook mini pupillages with local chambers. All of my experiences whilst at university helped me to decide that I definitely wanted to become a barrister.
Did you face any obstacles along your journey to becoming a barrister and how did you overcome them? Have any of them persisted since becoming a barrister?
I was incredibly fortunate to receive a Harmsworth Scholarship from Middle Temple for my BPTC fees. However, I had very little other money with which to support myself. I could not afford to move closer to Bar school so worked full-time as a paralegal in Plymouth whilst studying part-time in Bristol. I spent all my spare time studying for the BPTC. I was exhausted and my mental wellbeing reached an all-time low. I kept going because I was determined to finish the BPTC. The summer break between my first and second year of the BPTC re-energised me. I developed a better work/study/life routine and secured a pupillage.
I did continue to struggle financially, particularly during my first six months of pupillage. This was simply because I had just finished Bar School and was still 'living in' my overdraft. I could not afford a car until partway through my pupillage, so I was having to pay for public transport. This was expensive as I was still travelling up from Cornwall to different parts of Devon and Somerset. That being said, my financial circumstances greatly improved from my second six onwards when I was taking on my own cases. There are of course always some financial uncertainties involved with being self-employed, but I am very fortunate that my work diary has remained very busy and that I have lots of encouragement and support from other members of my chambers and our clerking team.
What opportunities, support and encouragement did you receive along your journey to becoming a barrister?
I received lots of encouragement from my A-Level law teacher at College but it was not until I went to university that there were so many more opportunities available for me. I joined the student law society and mooted either individually or in teams on a regular basis throughout my time at university. I joined what was then the Community Legal Helpdesk and assisted clients to run their cases on a pro bono basis.
I was encouraged to apply for mini pupillages and supported in making my applications by the careers service and my lecturers. I also had a mentor through the university career mentor scheme, who helped me to consider the pros and cons of pursuing a career at the Bar. I went on to receive lots of support and guidance about a career as a barrister whilst at Bar school. Many of my tutors were practising barristers and solicitors who were able to share their insights and pearls of wisdom with students. I also received lots of support and guidance whilst in my first six so that I was more confident about being on my feet from my second six onwards.
What is the most rewarding thing about being a barrister; has life at the Bar met your expectations?
The most rewarding thing about being a barrister is working alongside a huge range of people who need your advice and assistance. It is a privilege to provide representation for others. I would say that life at the Bar has exceeded my expectations. I knew before coming to the Bar that it would require a tremendous amount of hard work and dedication.
However, I did not fully appreciate how much I would enjoy having a varied workload and how incredibly supportive and understanding members of my Chambers and other barristers on Circuit (and beyond) would be. I was made to feel incredibly welcome and even now there is always someone on the end of a phone, video link or seated in a robing room to approach for advice and guidance when needed. I have also enjoyed being on the Steering Group for the Western Circuit Women's Forum and working with them to tackle problems such as career progression and the retention of women at the Bar.
How do you use your experience of coming to the Bar from an under-represented background to support those seeking to do the same, and/or why is it important for barristers to contribute in this way?
I use my experience of coming from an under-represented background by working alongside BarNone on the Western Circuit. I am the Devon and Cornwall representative for BarNone in an outreach programme to state schools and colleges. Several barristers and I have been working together to deliver talks about a career at the Bar either remotely or in person to as many schools and colleges as possible. I have also mentored school students taking part in the Young Citizens' Magistrates' Court Mock Trials (for 12 to 14 year olds) and the Bar Mock Trials (for 15 to 18 year olds). My view is that it is really important to contribute to supporting others from under-represented backgrounds because our profession needs to better reflect the society we serve.
How do you think the challenges around social mobility at the Bar which face aspiring barristers today could be addressed?
The Sutton Trust reported in January that many students, particularly from state schools, do not have access to the internet and devices of their own at home. As most information about a career at the Bar is online, many aspiring barristers from state schools could be missing out. There is also a wide variation in the level of career support provided to state school in comparison to private school students.
A policy encouraging every barrister to give at least one talk to a state school or college near them each year could enable more students to have the opportunity to learn more about the Bar and be on a level playing field with aspiring barristers from backgrounds which are currently represented at a higher level at the Bar.
What advice would you give to someone from an under-represented background, seeking to succeed at the Bar?
Don't give up! The road to becoming a barrister is challenging but if it's something you really aspire to do then go for it! You will need to be a good communicator at the Bar. If your school or College does not have the Magistrates' Court or Bar Mock Trials competition in place, then speak to your teachers and try to set this up. If you are at university, get involved with mooting, debating or any sort of public speaking. Take part in some essay competitions (you might win a cash prize!), have a legal blog, run a Twitter campaign, whatever you can do to try and engage with the law and to add experiences to your CV is going to assist you when it comes to making pupillage applications.
There is much more support and awareness out there for aspiring barristers. Do not ever feel that you have to change who you are, where you come from, how you sound or look. Who you are is what makes you unique. The Bar needs people from a diverse range of backgrounds in order to best serve the public who come from all walks of life, and you should be welcomed into the profession.
Emma Cross is a barrister at Devon Chambers