Jesse Cook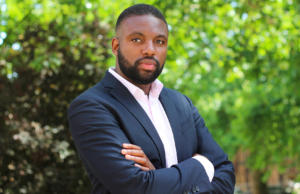 Tell us about your background and why you decided to become a barrister.
I am of Caribbean heritage (Jamaican) and grew up in a single parent home in South London along with my three younger cousins. I was the first person in my family to go to university, although I'm pleased to report that my three cousins who lived with me followed suit. We weren't poor, or at least we never seemed like we were as my mum and aunties always made sure we never went without, but I remember days when my aunty would put £3 of petrol in the car to get me to football training and the odd day where the money on the gas card would run out so I would have to boil the kettle to bathe.
The areas I grew up in and lived in around South London provided my main motivation for deciding to become a barrister. I saw poverty and injustice and I wanted to make a positive difference to my community. Like most young lads from South London I wanted to be a footballer when I was a kid, but from around the age of 14 I said that if I wasn't a footballer, I wanted to be a barrister and work in football, and thankfully I've achieved my goal.
Did you face any obstacles along your journey to becoming a barrister and how did you overcome them? Have any of them persisted since becoming a barrister?
There were several obstacles along my journey. I remember one of the first being when I was around 14 years old and I told someone (a black guy in his twenties) that I wanted to be a barrister. He replied "black boys from 'the ends' (local area) don't make barristers. Being clever isn't enough, you've gotta to be from the right background. You've got more chance of being a solicitor." Those words stuck with me but I decided to go for it anyway as I've always enjoyed proving people wrong!
Although I was bright, I thought my academic background would let me down. I went to a grammar school that was an hour-long bus journey (2 buses) from where I lived. However, as I made the transition from primary school to this posh secondary school, my uncle, who was my father figure, suddenly passed away. His death came at a time of significant change in my life - it hit me hard and I don't think I ever fully recovered from it during my school years. Although I did ok at school, I felt that I had underachieved. I then went on to college where I encountered further problems and it was an achievement in itself that I even made it to university with some of the things that were going on in my life. By this stage I was of the view that "uni is uni", but I soon learned of the snobbery that surrounds academic institutions and I seriously doubted my very high 2:1 from a former polytechnic and Very Competent grade on the BPTC would be sufficient for me to gain pupillage.
The cost of the BPTC is a deterrent if there ever was one. It had been my intention to apply for a scholarship through my inn, however, close to the time for submission of applications there was a cancer diagnosis and subsequent death of another very close member of my family, and I missed the application deadline. Determined to go straight through university and onto the BPTC I searched far and wide for funding alternatives. I eventually obtained a Professional Studies Loan from a bank. Within 6 months of completing the BPTC I had to start making repayments of just under £500 per month (including interest) for a period of 5 years. Being just 22 years old at the time it was difficult but it pushed me and inspired me to work hard as I had to ensure that I always had the funds to pay off the debt each month.
Another major obstacle for me to overcome was rejection. I had quite a few pupillage interviews but wasn't offered pupillage. But one day I had a second-round interview and it went extremely well, so well that at the end of the interview the panel were extremely complimentary about me and my prospects - I was very hopeful that I had finally managed to get pupillage (this was my third year of trying). A few days later the chambers informed me that they were not going to offer me pupillage. I was devastated. The following year I almost never applied at all due to the disappointment, and the fact that I had established a successful career in another field, but I did and I actually received three offers of pupillage (at the fourth time of asking!)
The final obstacle to overcome is 'imposter syndrome' or the self-doubt that occasionally creeps in telling you that you're not good enough to do this job. Sometimes I walk through Temple on my way into chambers and I look around at the history, the stunning architecture and beautiful grounds and think to myself "What am I doing here? How on earth did I get here? Do I even belong here?" but then I take a deep breath, tighten my rucksack on my back and reflect on my journey and remember that this is EXACTLY what I worked so hard for.
What opportunities, support and encouragement did you receive along your journey to becoming a barrister?
The main support I received was from my family - in particular my mum and aunties who always believed and encouraged me. But a game changer was when I signed up to the Inner Temple mentoring scheme during Law School and Sam Stein QC was assigned to be my mentor. Although I thought it was great that a QC would be mentoring me, I assumed that he wouldn't really be too interested or have much time for me, but it was the complete opposite. Sam was keen to meet me and when we did, he was genuinely interested in getting to know me. He encouraged me to embrace my journey and what he thought was unique about me. He went above and beyond to help me gain some relevant legal work experience. Despite being in the middle of a multi-week trial he was present when I was Called to the Bar and he met my family which was lovely. Having Sam's support really boosted my confidence.
What is the most rewarding thing about being a barrister; has life at the Bar met your expectations?
The most rewarding thing about being a barrister is when you win a case or achieve an outcome that has a significant positive impact for the lay client. Life at the Bar has met my expectations as I expected it to be hard work and challenging, but also highly rewarding.
How do you use your experience of coming to the Bar from a non-traditional background to support those seeking to do the same, and/or why is it important for barristers to contribute in this way?
I have attended events organised by the Bar Council, Law Society and universities that are aimed at students from non-traditional backgrounds to pass on my knowledge and experience of the process. I advise them about how to go about achieving their goals. I think it's vital that barristers contribute in this way because to have visible examples can be a source of great inspiration to the next generation of non-traditional barristers.
What are the challenges facing today's aspiring barristers, and how could they be addressed?
I think the challenges facing today's barristers are broadly the same although I hear the Bar is more diverse now than it's ever been and I am inclined to agree. Although it is still seen as a profession for those from the higher echelons of society, there are more people like myself who aren't from the "traditional barrister background" who have worked exceptionally hard to get here.
I think the Bar has worked to change how it is perceived by members of the public and I must say that some of the initiatives I have been involved in have been excellent and represent genuine attempts from the Bar to open its doors and give insight into the profession. For instance, I attended a joint Bar/Law Society event that was aimed at 15-16-year-old students from non-traditional backgrounds. I would have found it very beneficial to see and meet with barristers from similar backgrounds to myself when I was in school, so it's great that the next generation of aspiring barristers are receiving such opportunities. The Bar has a huge role to play in further developing and diversifying the profession, so if it continues to evolve and be forward thinking, I am sure things will only get better.
What advice would you give to someone from a non-traditional background, seeking to succeed at the Bar?
You have to be yourself. It sounds cliché but you have to believe in yourself. When pursuing a career at the Bar there are so many reasons to doubt yourself and your abilities. As long as you have a positive mentality, work hard and strive for self-improvement, it's most definitely within you to succeed.