Lucy Chapman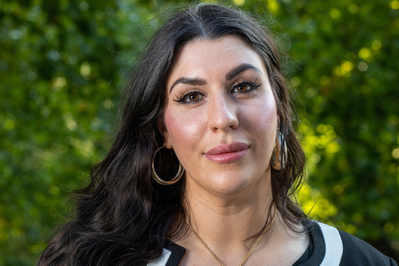 Tell us about your background and why you decided to become a barrister.
I was born and raised in Peckham, South London, and am half English, half Pakistani-Russian. Growing up, my family worked in public services – teachers, nurses, a fireman. I think that contributed to my having a strong moral compass: a calling to help others and stand up for what is right. For the past decade I have lived in council housing and campaigned for tenants' rights, including running my pro-bono project, CommUnify.
I am the first lawyer in my family, becoming a tenant at the beginning of this year after changing career. My practice is mixed with a strong legal aid element, mostly in crime, family, employment, housing and social welfare.
I was state schooled, then studied commercial music at the University of Westminster. I was in a band at the time and had no idea what I would do with my life. I never dreamed I would be clever enough to become a lawyer, and only had a vague idea what a barrister was. I worked in retail and pubs from my teenage years onwards, taught and performed belly dance in restaurants and later began performing cabaret as a second job.
After a few years of bar work as my main job, I started working in public libraries. Having experienced poor working conditions in my other roles, I joined the trade union and shortly after became a union rep, representing my colleagues at workplace hearings and negotiating with the employer. I seemed to have a talent for advocacy, and really enjoyed it.
I did the GDL in 2017. It was a bit of a culture shock. 99% of my fellow students were private schooled and had gone to Oxbridge or Russell Group universities, and there was me, with my pop music degree. I hadn't done a proper academic exam for 15 years, and my A Levels were all artsy subjects, but somehow I managed to win a bunch of prizes and graduate with a commendation.
Did you face any obstacles along your journey to becoming a barrister and how did you overcome them? Have any of them persisted since becoming a barrister?
Alongside the usual issues faced by those from non-traditional backgrounds coming to the bar, I have ADHD and other mental health disabilities. They affect every aspect of my life and add an additional burden on top of managing work and the rest of my life.
That said, I feel my unique perspective is an asset in this career, as my ADHD can be – I have the ability to think very fast and hyper-focus on work.
What opportunities, support and encouragement did you receive along your journey to becoming a barrister?
When I was a union rep, the union paid for me to do a year-long employment law course in the evenings, which introduced me to learning the law and the legal world. One night, a barrister came to speak to us, and I thought, "that's what I want to do".
I got a scholarship to study the BPTC and a couple of months after finishing was lucky enough to get pupillage and start the same year at 1MCB.
I have found solidarity speaking to other disabled lawyers and am getting more involved in raising issues regarding accessibility to the profession, trying to come up with practical solutions to improve things.
What is the most rewarding thing about being a barrister; has life at the Bar met your expectations?
I feel like my background has prepared me for life at the Bar – intellect is necessary but also interpersonal skills and a strong work ethic, which cannot be taught easily.
I absolutely love my job. It is rewarding, challenging, yet often hard work and long hours. I cannot imagine doing anything else.
How do you use your experience of coming to the Bar from an under-represented background to support those seeking to do the same, and/or why is it important for barristers to contribute in this way?
I hope to encourage others with disabilities and those from non-traditional backgrounds to consider the Bar.
I have benefitted from colleagues and barristers speaking to me in the past and giving advice, which I hope I can pass on by taking part in events and talks to assist others entering the profession.
How do you think the challenges around social mobility at the Bar which face aspiring barristers today could be addressed?
It is vital for clients and the public to see themselves and their experiences reflected in a diverse profession. Having a wider pool of talent is the only way the profession will continue to thrive.
In my opinion, there isn't a simple, 'one step' solution to decreasing inequality and improving access to the profession, what is needed is a raft of different measures. I have some ideas!
What advice would you give to someone from an under-represented background, seeking to succeed at the Bar?
In terms of pupillage, I would advise others with eclectic backgrounds to highlight those transferable skills, which many candidates may not have. Do your research and be discerning when considering chambers, whether you would be a good fit for them, and vice versa, instead of applying to as many as you can. Although there is a long way to go regarding access to the profession, there are some amazing schemes out there that gave me opportunities I would not have had otherwise, such as the Inner Temple PASS scheme.
Lucy Chapman is a barrister at 1 MCB