Mukhtiar Singh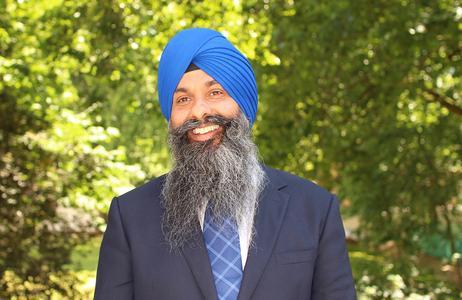 Tell us about your background and why you decided to become a barrister.
My father came to this country in the 1950s and worked as a labourer on building sites in London until retirement age. My mother worked in factories and also worked at home in addition to bringing up 5 children. All 5 of us left school aged 16. We were poor but did not starve, which is a credit to my parents. I have had various part-time jobs during primary and secondary education. It is perhaps unsurprising that I have always had an interest in employment law and workforce relations.
Did you face any obstacles along your journey to becoming a barrister and how did you overcome them? Have any of them persisted since becoming a barrister?
Despite not having A-levels, I was allowed to study law at degree level due to my professional qualifications (I was a detective inspector in the police). I studied law part-time for four years and then completed the BPTC part-time. I was 40 when I was called to the Bar; my two children were born during my studies; and I developed a slight disability during the BPTC as well.
My CV was therefore unusual and it proved difficult to obtain pupillage. During and after mini-pupillages, I found most barristers very keen to assist me and provide practical advice. There is a great collegiate spirit at the Bar, indeed across the legal professions.
Changing career and studying in your own time is extremely challenging, but your study is focused as a result. You learn how precious time can be and through careful planning, many things can be achieved. My experience has helped me build a practice quickly and manage a large workload with my home life. Another obstacle from someone from my background is lack of confidence. The Bar Council has been engaging in school projects, which is crucial work. This profession provides an opportunity every day to learn and as long as you grasp those opportunities then you should have confidence to succeed.
What opportunities, support and encouragement did you receive along your journey to becoming a barrister?
I was very fortunate to obtain a full scholarship at Lincoln's Inn, which was an enormous help. The fees are shamefully high and unless something is done, social mobility will be seriously curtailed.
I also had great support from my wife; and from barrister and solicitor contacts who have become great friends.
What is the most rewarding thing about being a barrister; has life at the Bar met your expectations?
Representing an individual or organisation is both rewarding and a great privilege. As expected, the Bar provides opportunities, on a daily basis, to learn and improve.
How do you use your experience of coming to the Bar from a non-traditional background, to support those seeking to do the same, and/or why is it important for barristers to contribute in this way?
I have a strong commitment to social mobility. Earlier this year (2018), together with the Sikh Education Council, I launched the Guru Nanak Social Mobility Scholarships, which I am fortunate to fund. Further details can be found here: https://singhbarrister.co.uk/scholarship/ . I am acutely aware that social mobility (or the lack of it) impacts hardest on minorities, including those from minority racial backgrounds and the disabled.
I assist with mentoring though the University of Kent, the University of Law and Lincoln's Inn. There are many excellent mentoring schemes around. Given the costs, it may be fruitful if career changing is seen as a route to social mobility. The greatest advantage of my background is having life experience to enhance my judgement.
What are the challenges facing today's aspiring barristers, and how could they be addressed?
Coming to the Bar from a working-class background can in fact be a real advantage as it brings a fresh, humble and practical perspective to practice and law. With diversity comes difference in perspectives, credibility and a better understanding of equality (not least unconscious bias). We are rightly proud of our legal systems and principles, not least the rule of law, but I am sure it would be greatly enhanced if law makers and practitioners were selected from the whole and not the few.
What advice would you give someone from a non-traditional background, seeking to succeed at the Bar?
My top 3 tips for aspiring barristers from non-traditional backgrounds:
If you don't have a traditional law CV, focus on sets that have proven diversity in their Chambers and are taking on more than one pupil. A set taking on just one pupil is less likely to take on someone unusual. Also a set which has no or little diversity would need to convince you why it now would have a genuine change of heart!
Form good relationships with barristers on your mini-pupillages so that you can ask them the questions that really matter to you.
Be confident and ask for help. Remember, you are needed!
The Bar is determined to broaden its diversity. This is not just an aspiration, it is happening and I guess I am proof.