Peter Eguae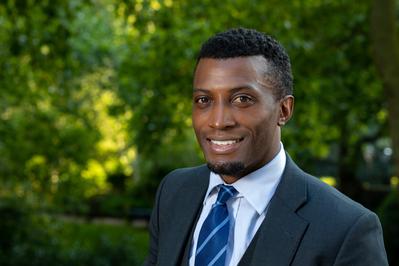 Tell us about your background and why you decided to become a barrister.
My family (single Nigerian mother and four kids) lived in the notorious Chalkhill Estate in Wembley. From about 5–13 years old, I was fostered in six homes across the country and became a ward of court. A year or so after the court ordered my return to my natural family, my mum was injured in a car accident and has used a wheelchair ever since. I sat my first GCSEs while homeless and couch surfing. I grew up amidst poverty, crime and violence. I could have been a statistic.
My first exposure to the Bar was a five-and-a-half-month stint on jury service at the Old Bailey when I was 19. After observing some of the highly impressive barristers, I thought that a job at the intersection of law and technology would be very interesting. I also really enjoyed the experience of deliberating.
Did you face any obstacles along your journey to becoming a barrister and how did you overcome them? Have any of them persisted since becoming a barrister?
Reaching the Bar from where I started in life was like starting the London Marathon from somewhere in Cumbria. Looking back, I recognise that I was determined but lacked confidence, which was a hidden obstacle. Lil Wayne once sang that: "confidence has no budget". Self-doubt still lingers at times, but hanging out with others in the profession has shown me that, irrespective of their background or schooling, people often doubt themselves. Silks and judges doubt themselves. The trick is to never let that doubt do anything other than drive you to improve and succeed.
What opportunities, support and encouragement did you receive along your journey to becoming a barrister?
I feel lucky and blessed by the lessons I have learned along the way. Perhaps the most important was taught to me by Matthew Ryder QC at an event I went to while I was at Bar school. He had been asked a question by someone in the audience about whether it was important for a barrister to sound 'posh'. Matthew said: "The tribunal or jury might notice your accent for the first few minutes, but, if your argument and persuasion is sound and strong, then they will pay attention irrespective of whether you pronounce every letter". In practice I've learned that being able to talk to people like a normal person is a very important skill that not every barrister has.
What is the most rewarding thing about being a barrister; has life at the Bar met your expectations?
I love advocating on behalf of people. The most rewarding thing is being exposed to the various facts and stories; the drama of human life is fascinating, surprising and humbling. On occasion, I might be the only person on the entire planet who is on my client's side. That is a privilege, because I remember moments in my life when I felt alone, and how important it can be for someone to simply stand up for you.
I didn't expect some of the working conditions at the criminal Bar to be so poor. Many of them evolved in an era in which it was easier for barristers to maintain their wellbeing but haven't evolved to handle the effects of the digital revolution and increases in the costs of living. Any senior barrister will tell you – with a tear in their eye – about how much better things once were. Conversations around wellbeing at the Bar are increasing though, and long may they continue. As with diversity and inclusion, effective action to improve wellbeing is not only the right thing to do, but the smart thing.
How do you use your experience of coming to the Bar from an under-represented background to support those seeking to do the same, and/or why is it important for barristers to contribute in this way?
I primarily contribute via my Inn and chambers to support those pursuing the career or developing their advocacy skills. My experience and perspective help me empathise and connect with diverse groups of people. It is important for barristers – particularly the atypical ones – to contribute by paying things forward because you never know who you'll inspire. It's important to make sure the door that you snuck through is opened wider.
How do you think the challenges around social mobility at the Bar which face aspiring barristers today could be addressed?
I represented a guy in a very serious trial who would have been a fantastic barrister if he had been given the opportunities. His metaphorical journey started in Cumbria but for various reasons he didn't make it to the starting line of the London Marathon. As a society, it is in our interest to fix this; to ensure that those able to contribute to the Bar are assisted and encouraged to do so. It will no doubt take time, but the majority of good and worthwhile things do.
What advice would you give to someone from an under-represented background, seeking to succeed at the Bar?
The evidence that a thing has not been done before is not evidence that a thing cannot be done. I would advise anyone seeking to succeed at the Bar to remember that our justice system was built and improved by individuals who had the courage to stand up for their point of view, often in the face of stern opposition. When William Garrow proposed that criminal defendants should be considered innocent until proven guilty it was a revolutionary and courageous act. Anyone seeking to succeed at the Bar should adopt his spirit: do right and fear no one. Your under-represented background will be less under-represented if you succeed, so do everything in your power to be the change you want to see in the world.
Peter Eguae is a barrister at 7 BR