Samreen Akhtar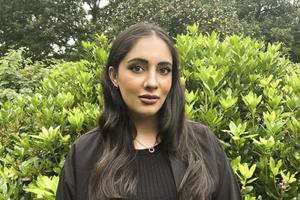 Tell us about your background and why you decided to become a barrister.
I am the eldest child of second-generation Indian and Pakistani immigrants. I was the first in my immediate and extended family to attend university. My father was a mechanic whilst my mother is a housewife.
As a ten-year-old who loved reading, my fascination with law began when reading about the murder of a 94 year old retired nurse, Dorothy Wood, in my hometown of Huddersfield. I bombarded my father with questions ranging from what a judge/barrister/jury did, what forensic science was and how an ear print on a window led the police to catch the man who, the police thought, was the killer.
My fixation with a career in law grew during school and college. Hailing from a Pashtun background, I broke tradition by studying beyond sixteen. I am fortunate to have parents who champion education and it was with their blessing that I studied law at the University of Huddersfield. Subjects like Crime and the Rules of Evidence persuaded me to pursue a career in criminal law whilst mooting, mock trials and the support of my personal tutor (and former CPS barrister) Mark Edwards forced me to rethink my initial plans to qualify as a solicitor. Quite dishearteningly, initial research into the Bar led me to endless profiles of "Oxbridge" educated, Caucasian, males. This was even more the case for sets outside of London. Excellent university results gave me the confidence to apply for the BPTC (then called the BVC) at BPP Law School. They offered me a scholarship and I stayed with them beyond the BVC to study towards a Master's in Law.

Did you face any obstacles along your journey to becoming a barrister and how did you overcome them? Have any of them persisted since becoming a barrister?
My research into a career at the Bar revealed obstacles in terms of how competitive and expensive the route to qualification was.
In terms of competition, I'd read statistics which suggested that as many as 60% of BVC graduates had struggled to secure pupillage. The statistics made bleaker reading against the backdrop of the 2008 recession. Undeterred, I undertook mini-pupillages at eight sets across Leeds, London and Manchester. This allowed me to observe a range of work and my experiences reinforced my decision to pursue a career at the criminal Bar.
I also undertook marshalling at York Crown Court, work experience at criminal defence firms and delivered classes for inmates at HMP Lowdham Grange as part of the Streetlaw Prisons Project. I volunteered for BPP Law School's Legal Advice Clinic where students worked with local legal professionals to provide assistance to individuals and charities.
Scholarship aside, I took advantage of a now obsolete NatWest scheme which provided loans to support postgraduate law and medical students. Whilst applying for pupillages, I worked first in the banking sector and then insurance. The former assisted me in repaying the cost of my studies whereas the latter resulted in an opportunity with the City of London Police's Insurance Fraud Enforcement Department. This placed me in good stead when applying for pupillage with the CPS, which I began in November 2015. Against a backdrop of increasing university tuition fees, it is encouraging to see improved financial assistance from both the Inns of Court and course providers.

What opportunities, support and encouragement did you receive along your journey to becoming a barrister?
The BPP Law School scholarship provided financial support as well as being a mark of achievement and source of conversation in pupillage interviews. I also took advantage of Lincoln's Inn mentoring scheme, which matched me with a mentor who provided invaluable advice on pupillage applications. Dining sessions at Lincoln's Inn provided networking opportunities and reassurance that there were many others in a similar position to me.
On a personal level, both of my parents played a huge part in my journey whether it consisted of proofreading pupillage applications, providing words of encouragement after a rejection letter or helping me to temporarily relocate to London in order to pursue opportunities.

What is the most rewarding thing about being a barrister; has life at the Bar met your expectations?
A career as a barrister is intellectually stimulating – no two days are the same. A typical week could start with a prosecution in a high-risk domestic abuse case, include an advice for proceedings before the Court of Appeal and end with a drug trafficking case in which I represent the defendant.
Thinking back to Ms Wood's murder, life at the criminal Bar enables you to make a real difference to people's lives. Occasionally, I am reminded of the globalised nature of life at the Bar; a conviction in England and Wales could put an end to the sexual abuse of a child in Vietnam or Cambodia.

How do you use your experience of coming to the Bar from an under-represented background to support those seeking to do the same, and/or why is it important for barristers to contribute in this way?
Being a female barrister of Pashtun heritage, I am all too aware of the issues surrounding underrepresentation at the Bar. I also recognise the privileged position that I enjoy; it took until 2014 for the Khyber Pakhtunkhwa Prosecution Service (KPPS) in Pakistan to appoint Haseena Syed, the first female prosecutor since the organisation's formation in 2005. To be called an "inspiration" by fellow Pashtun Ms Syed is humbling and reaffirms my responsibility to provide support and encouragement to those who share a similar background to my own.
Closer to home, I have been a part of the mentoring scheme run by the University of Huddersfield's Law School since its inception three years ago. This year, I enrolled on the Bar Council's "Bar Placement Scheme" to take part in outreach to students. I am also lucky to belong to a set of chambers which places great emphasis on corporate social responsibility. This has enabled my colleagues and I to participate in events at local law schools and universities as well as to accommodate mini-pupils.

What are the challenges facing today's aspiring barristers, and how could they be addressed?
The Covid-19 lockdown brought life as we knew it to an abrupt halt. Inevitably, there are concerns about how this will affect the economy and employment prospects. This may be reflected in the number of pupillages on offer in future. My advice to aspiring barristers is to use this time wisely: research chambers, write applications for pupillage. My personal experience also suggests that there are more opportunities than ever to participate in events virtually. Use these opportunities to enhance experience, refine applications, research scholarships and network with legal professionals and other aspiring barristers.
The global Black Lives Matter protests in June brought to the forefront issues of racism, equality and the application of the law. Whilst the BSB's 'Diversity at the Bar' report (published January 2020) shows small positive developments in Black, Asian and Minority Ethnic representation at the Bar, as well as an increase in the number of female silks and a greater proportion of female pupils compared to male pupils, there is always room for improvement.
I firmly believe that financial support is necessary to eradicate socio-economic barriers. Initiatives like the Bar Council's "Barristers in Schools" scheme, increased financial support from the Inns of Court and a flexible, progressive, approach to training (like changing the way in which the BPTC is delivered) indicate that the Bar is already taking significant steps to improve social mobility within the profession.

What advice would you give to someone from an under-represented background, seeking to succeed at the Bar?
Remember that pupillage committees sift through hundreds of applications every year. Whilst academic achievements are important, life experience is key to succeeding at the Bar. It is unique to you and gives you skills and qualities that other candidates won't necessarily possess.
If you're multilingual, highlight it. Speak about your voluntary work. Think of legal developments which you find interesting and why. The weekend job in retail demonstrates your ability to manage client expectations, work under pressure and take initiative when required - the list goes on.
Finally – persevere. You will encounter setbacks but it's important to view them not as losses but lessons. I remember a pupillage interview where I was referred to as a "rough diamond" because I had attended a state school. Walking away from that interview made me realise that I didn't want to join a narrowminded and judgmental set. I withdrew my application on the train home. The following year, I secured pupillage with the CPS and went on to become the youngest barrister on the Midlands Circuit. In the words of Brazilian author Paulo Coelho "when you want something, all the universe conspires in helping you to achieve it".