William Sneddon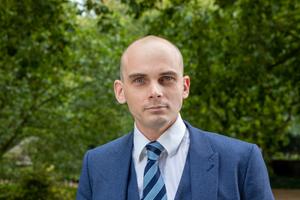 Tell us about your background and why you decided to become a barrister.
I grew up in Bradford and moved to Durham when I was 14, educated in state schools, and in receipt of the (now defunct) Educational Maintenance Allowance. I did not receive any financial support from my family during the Bar course and have been working since the age of sixteen to support both my studies and internships.
My main driving force for coming to the Bar was my desire to practice advocacy and my keen interest in the Criminal Justice System. Before coming to the Bar, I volunteered as a Special Constable for four years in the Metropolitan Police and worked for the NHS in a number of different administrative roles.
I started pupillage in October 2018 and my practice is predominantly based in criminal law.

Did you face any obstacles along your journey to becoming a barrister and how did you overcome them? Have any of them persisted since becoming a barrister?
For me, as with most of the Social Mobility Advocates, the main obstacle to the profession was money. I started my undergraduate law degree with aspirations of becoming a barrister but was unable to afford the BPTC fees. I also felt that I did not have enough experience to compete with the other applicants. Without the Exhibition Award from Inner Temple I simply would not have been able to afford to come to the Bar. It is encouraging to see that the Inns of Court College of Advocacy are offering a much lower-priced alternative to the Bar Course, starting September 2020.
I was further deterred by some of the experiences I had during mini-pupillages and interactions with other aspiring barristers. Of particular note, whilst silently sitting in the chambers' common room during a mini-pupillage, a number of the senior members of the set made derogatory comments about people from the North East of England and their accents. Aside from finding this incredibly offensive, I questioned whether my own North Eastern accent was hampering my pupillage applications. I am happy to report that I have not encountered this since starting my practice and have in fact received positive feedback for having a regional accent.

What opportunities, support and encouragement did you receive along your journey to becoming a barrister?
I was fortunate enough to receive a number of scholarships over the past five years. Inner Temple funded my BPTC, an internship to Malaysia, and have provided me with my wig, gown, and circuit case to keep my wig in.
The support and encouragement I received from my tutors on the Bar course were fundamental to my attaining pupillage. Not having any friends or members of family at the Bar, it was difficult to anticipate what chambers would be looking for in a pupillage candidate. Having barristers look over my applications and giving me advice on interviews made a big difference in the amount of pupillage interviews I was offered and was a key part in my being offered pupillage after four years of applying.

What is the most rewarding thing about being a barrister; has life at the Bar met your expectations?
The most rewarding feature of the Bar is the thrill of it. Many careers risk becoming tedious and monotonous but this is in no way a feature of the criminal Bar. You have to be ready to deal with new situations on a daily basis. Whether this is dealing with complicated legal arguments in the midst of a trial or having to fight to get your client bail at their first appearance, no day is like any other.

How do you use your experience of coming to the Bar from an under-represented background to support those seeking to do the same, and/or why is it important for barristers to contribute in this way?
I volunteer for Inner Temple's outreach program ("PASS"), attend events, and speak with those that are interested in coming to the Bar from non-traditional backgrounds. Through this scheme I have offered advice and assistance to many aspiring barristers and, upon having the requisite three years of practice under my belt, I intend to join the Inner Temple's mentoring scheme. It is important that those aspiring to come from the Bar from lower income backgrounds have access to the same level of support as those from more "traditional" backgrounds.

What are the challenges facing today's aspiring barristers, and how could they be addressed?
Speaking as a criminal practitioner, I consider the main challenge facing today's aspiring criminal barristers is the lack of funding. At the start of your practice you will be doing Magistrates' court hearings and trials. Under the current legal aid regime, you will be paid very little for this work. The financial situation does improve once you find yourself being briefed for Crown Court cases, but the first few years are particularly tough.
Whilst I wouldn't want to deter anybody who is passionate about criminal law from coming to the criminal Bar, it would be helpful to have some savings or other significant financial support before starting your practice and a realistic outlook on what the first few years will be like (NB: you will probably be asked about this in interviews). You will see your contemporaries at the civil areas of the Bar earning much more money for the same amount of work. All of the Inns have awards and scholarships for those about to start pupillage and I would definitely recommend applying to these.

What advice would you give to someone from an under-represented background, seeking to succeed at the Bar?
Believe in yourself! Applying for pupillages can be disheartening. Very few people secure pupillage when they first apply and you will likely have to deal with a lot of rejection. That being said, it is definitely worth persevering. Being a barrister is a fantastic career where you will have the opportunity to determine your own future whilst also having the benefit of a strong collegiate support from your peers.
For anybody considering a career at the Bar, it's never too early to start looking at the Pupillage Gateway and the type of questions you will be asked by chambers. Think about how you would answer those questions and what gaps will need plugging on your application if you are unable to do so. The Inns of Court and most universities have a large amount of financial aid put aside to support students undertaking various internships or unpaid placements, so I would recommend taking full advantage of this while you can.
Finally, don't be afraid to ask for help. Whilst those educated in private schools are actively encouraged to seek out help and guidance, this is often not the case in some state schools where teachers are overworked and simply do not have the time. I wasted most of my university years having a chip on my shoulder, thinking that I could and should do everything by myself. Looking back now, this wasted valuable time and I lost useful opportunities to seek advice and assistance from barristers I encountered during my studies. There is no harm in asking.